Kate Harris is an author, poet and watercolour artist who wanted us to create a website for the book she was writing. The website had to reflect the spirit of her art. Once we established that, she also asked us to design the book.
The Brief
Kate asked us to create a beautiful website that would help promote her new book. The website had to make use of her poetry and art, and be an expression of her motivations for writing the book. The second part of the brief was to then design her book. 
The Story
We began by immersing ourselves in her art and poetry. We discussed exactly what her motivations were in writing and explored Kate's story in depth. We created a plan for the site and produced some initial designs. Once we had client approval, we went on to build and test the entire site. We used our creativity to weave her words and art throughout the website. Every stage was ultimately examined and approved by Kate herself before going live. 
Part of the way through the project, Kate was so impressed by our work that we were producing that she asked us to also design her book, "Fly Home to Your Heart". As it was her first book, we provided input and guidance on everything from typeface choice, buying ISBN numbers, production and pricing. We also liaised with her printers to ensure that this self-published book was produced to the highest possible standards of quality.
After the book launch, we also added an online shop, so that copies of the book can be ordered directly from the website (see below for the URL).  
Our client was delighted by the results and pleased with the high degree of consultation and collaboration throughout. We like to work in partnership with our clients and this project is an ideal example of that.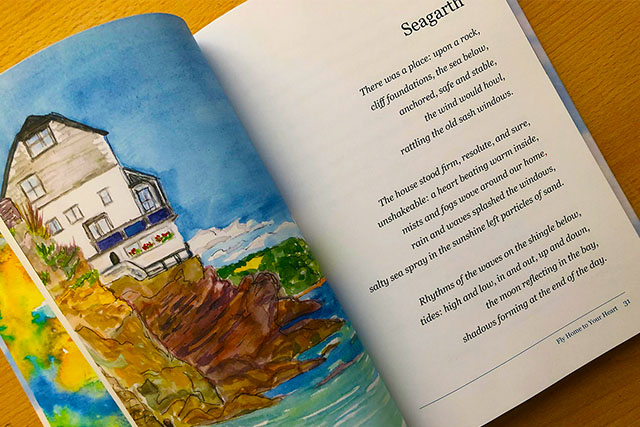 I appreciate and value your ability to see the book, your encouragement and your professional approach to creating the book I have always waited to create. It means a great deal to me and you have enabled it to come alive and be shared.