A&B Potatoes is the leading supplier of chipping potatoes in the South West of England. If you've eaten chips in the South West, the chances are that they supplied the potatoes. They asked us to design a brochure that could be used in a mailshot..
The Brief
"Can you make potatoes interesting?"
A&B Potatoes asked us to design an eye-catching, easy to read mailer, that would appeal to owners and managers of chip shops and fast food restaurants.
The Story
When A&B Potatoes asked us: "Can you make potatoes interesting?" we knew this would be an interesting challenge.
The first step towards creating a successful design project is to fully understand the client's needs and objectives, so that's exactly what we did. By discussing their goals and expectations, we were able to identify the key features they wanted to highlight in their marketing materials.
To help A&B Potatoes achieve their desired outcome, we presented them with a range of different design options, backed up by examples of our previous work. We pride ourselves on our ability to think creatively and outside the box, and this project was no exception. After exploring several different approaches, we ultimately settled on a roll-fold leaflet on card with a luxurious soft-touch texture. This approach offered A&B Potatoes six pages on which to showcase the various benefits of choosing them as a supplier.
By using a roll-fold leaflet, we were able to convey a wealth of information in a compact and visually appealing format. We worked closely with A&B Potatoes to ensure that the leaflet was both informative and engaging, featuring bold graphics, clear messaging, and a clean layout. The result was a high-quality marketing tool that effectively communicated the unique value proposition of A&B Potatoes to potential customers in the fast food industry. Overall, our clients were thrilled with the outcome of this project, and we believe it serves as a testament to the power of collaboration and creative problem-solving.
CLIENT: A&B Potatoes Ltd
WORK: Brochure design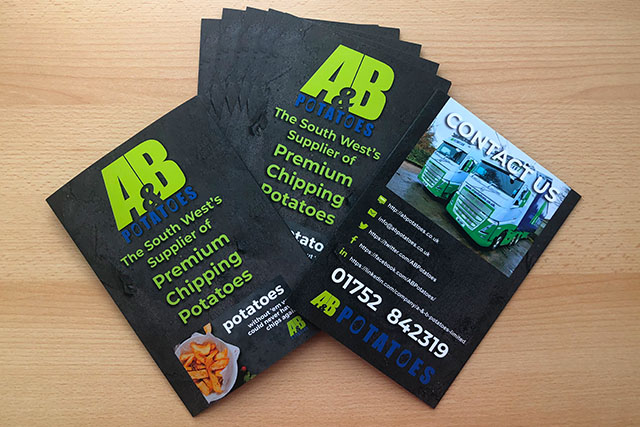 Design Inspiration were great to work with during the design process and we were extremely impressed with the quality of the brochures produced.