Keep Calm and Love It
It's not every day that you meet a giant killer. It's even more unusual to be given a chance to meet it before it becomes big in it's own right, but last night I was lucky enough to be given early access to a brand new social collecting and sharing site called LoveIt.com that could become very big indeed. Okay, I can hear you asking "What is social collection, Ash?" Relax, I'm getting to that.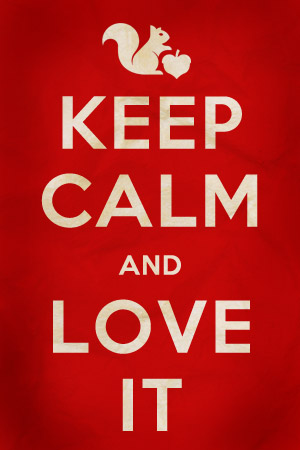 "What is social collection, Ash?"
You've heard of Pinterest, the site that allows you to create virtual boards on which you can attach content from all over the web? Let's say you have a burning interest in left-handed screwdrivers or high performance cars, or love sharing pictures and recipes for cupcakes, or… well you get the idea. You can create a board for each interest and whenever you find a website with pictures of cupcakes or supercars and you think to yourself "I wish there was a place I could put all these links so I can look at them when I have time and maybe even show my pals to demonstrate what an amazing hunter-gatherer of cool things I am". Despair no more, because now you have it.
That's what social collecting is all about: making great collections of stuff you like on the internet for yourself and so that other people can enjoy them too. On the back of that comes some interesting engagement opportunities too.
LoveIt vs. Pinterest
Okay, so why have I been talking about Pinterest when I should be talking about LoveIt? The thing is, Pinterest has flaws, some of which aren't pretty to look at. For example, their small print indicates that they automatically own copyright on any images that are pinned using their system. Not too big a problem? What if you're a professional photographer? By contrast, LoveIt tells me they're keen to acknowledge copyright ownership and their small print seems pretty clear about it. They've gone to some effort to build tools for copyright owners to assert their rights by reporting suspect links.
LoveIt looks like it's solving Pinterest's flaws.
Visually, LoveIt may even remind you of Pinterest when you first start using it, but there are some fundamental differences. I won't go into everything here, but the key ones are worth mentioning. Such as the ability to create private collections. This would make the collections a pretty useful resource for collaborative working and I'm promised that as they roll out new features, LoveIt will make it even better. LoveIt is focusing on enabling greater privacy and more control over organising your collections. Those are pretty good ways to differentiate so I'm interested to see how they will do it.
So, now you know all about social collecting and you're clear on why LoveIt is pretty good news I can tell you want to ask me:
"I'm Trying to Run a Business. Why Are You Telling Me About All This Stuff?"
At Design Inspiration, we've been designing websites for a while (since 1993 if you really want to know) and the one thing we've always tried to do is make them visually interesting. Images add interest, beauty and information that words alone can't convey. It seems the rest of the world agrees because you don't have to look very far to see evidence that the internet is becoming more visual. Google now gives you a visual preview in search results so you can see what a site looks like before you go there. Facebook, Google Plus, even LinkedIn – they're all getting increasingly visual and that's cool because we humans like to look at things before we try them.
The visual web is good news for business because it gives us another, more natural dimension to our marketing, customer care, brand building and product development. Picture this: you're working on redesigning your product packaging so you set up a private collection on LoveIt with a variety of images of the various options so that your virtual focus group can comment on them. Or, you have a band that's just beginning to develop a following. How about setting up a collaborative collection so your audience can share photos from your latest gig? Or do what we do and post up links to your blog posts so as many people as possible can connect with your messages? These are obvious suggestions; you'll come up with much cooler ones. Let me know what they are, please.
The Next Step
Don't waste any time wondering what to do about this. Social collecting is already big and it's only going to get bigger. Head over to LoveIt.com and request an invitation (or an "invite" as the Americans seem to like to call it) so you can be among the first to start loving it like I do.
People who read this post also read...